Cast of Bade Achhe Lagte hai 2
Meet the cast of Bade Achhe Lagte Hai 2 stood up against the original
How the cast of Bade Achhe Lagte Hai 2 wove their magic on TV?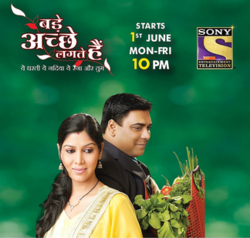 When Bade Achhe Lagte Hai first aired on Sony Entertainment Television on 30th May 2011, it was one of the many soap operas on Indian television channels. But within days, it emerged as a top seller and became the 7th most watched show on TV in India. While Ram Kapoor and Sakshi Tanwar became household names overnight, the other actors who played various supporting roles in the TV serial too became famous!
Balaji Telefilms has remade Bade Achhe Lagte Hai recently keeping in mind today's sensibilities and had it released on Sony Entertainment Television and also on Sony Liv. And just like the original which made Ram Kapoor and Sakshi Tanwar household names, the cast of Bade Achhe Lagte hai 2 too have become equally popular.
Here's some more about the cast of Bade Achhe Lagte hai 2, especially about the main pair and some other important characters:
Nakuul Mehta as Ram Kapoor
The original cast of Bade Achhe Lagte hai had Ram Kapoor who is in his early forties, unmarried and a very successful businessman. The cast of Bade Achhe Lagte hai 2 has Nakuul Mehta playing Ram Kapoor. Nakuul Mehta made his acting debut in 2012 through the TV serial Pyaar ka Dard Hai Meetha Meetha Pyara Pyara.
Many stare in disbelief when they come to know that this protagonist from the cast of Bade Achhe Lagte Hai 2 is a Masters of Commerce. That is because most of them know Nakuul as a trained dancer in forms like Jazz, hip-hop, break, folk and salsa. That is why you may want to call him a dancing star. No wonder he is the pupil of Sandip Soparrkar and a gold medallist in the Standard Ballroom category and a silver medallist in the Latin ballroom category at the All India Dance Sport Federation competition in 2011.
Just like Ram Kapoor, even Nakuul Mehta received tremendous critical acclaim for his acting skills.
Disha Parmar as Priya Kapoor
The second important pillar of the original Bade Achhe Lagte Hai was Sakshi Tanwar. While Ram Kapoor was shown as a rich businessman, Priya Kapoor was a middle-class woman in her late thirties. One day when both meet, they initially detest each other but eventually love blossoms between them. The chemistry of Ram Kapoor and Sakshi Tanwar had audiences mesmerised and when Nakuul Mehta and Disha Parmar were cast, comparisons were bound to happen.
But Disha Parmar seems to have overcome this comparison well because of two reasons. The first reason is that Nakuul Mehta was her first co-star in Pyar Ka Dard Hai Meetha Meetha Pyara Pyara –the debut serial for both. This meant that they were very comfortable on screen and the audience could feel the chemistry working between them.
Secondly, Disha made her acting debut with Nakuul in 2012 when she was just 17! Since then she had worked in many TV serials and had gathered a huge fan following. Infact in 2020, Disha Parmar was named one of the top searched female celebrities of the year!
Being a remake, the cast of Bade Achhe Lagte Hai 2 is its key strength and they seemed to have hit all the right notes in their audience's hearts and minds. Infact, during Week 15 and Week 37 of 2022, Bade Achhe Lagte Hai 2 was consistently rated amongst the top 45 most watched shows by BARC.
While the story of Bade Achhe Lagte Hai is based on the Gujarati play Patrani by Imtiaz Patel, this Hindi TV serial has broken records of popularity since it was aired. But when it comes to its remake it is the cast of Bade Achhe Lagte Hai 2 that undoubtedly steals the show!