How To Choose A Ping Pong Table: A Buyer's Guide
Ping pong, also known as table tennis, is a great game for all ages. It's a fast-paced, exciting sport that can be played indoors or outdoors. But before you can start playing, you must choose the right table that fits your needs.
Many options and features are available, but hopefully, you'll get insights and recommendations about what you should buy for your club or home. Spotting the high-quality ones will mean you have to look for thicknesses ranging from 12mm to 25mm. This is because the balls will generally bounce well with the thicker ones, and the thin tables can easily get damaged. Other considerations are the following:
What to Look For?
Play Surface:
Look for surfaces that are at least 19mm thick. Anything lesser than this will generally not last long. The quality ping pong tables can range from half an inch to one-inch thickness. This is where you can get the consistent bounce, and always make sure to look for the ones with particle boards that have medium densities. They have a higher percentage of resin materials and offer good warp resistance.
Aluminum or Wood Materials:
Most tables nowadays are made of wood, but you can also get ones made of aluminum. The latter is generally used outdoors because it's resistant to temperature, humidity, rain, and other extremes. They are weatherproof, and they are typically made from aluminum shells. However, the ones engineered for outdoor use can be expensive, so make sure you have the budget for them.
Under-Carriage, Chassis, and Frame.
The frames located just below the playing surface should be made of durable materials. Know that the cheap ones might be made up of galvanized tubes and aluminum. They can become shaky and unreliable as time passes, and you might even find them collapsing.
The best ones comprise a solid core or frame and heavy steel tubes. They have square or oval tube legs that support their stability and strength. Cross beams, chassis, and undercarriages have connection points to support the weight of the players.
East Storage Features:
You might want to look for compact tables that you can store in your garage or attic when not in use. The retraction feature can help you fold the playing surface, and when you store them, they don't take up too much space. The ones with multiple and big wheels will offer more support, so you can move everything as well. The locks will help the table stay folded while rolling to prevent accidents.
Post and Net Systems:
The high-quality ones have netting systems that will allow better playing. These nets are attached or integrated into the frame and can be folded when not in use. Check various manufacturers to see if they offer this feature and adjust your needs accordingly.
Simple Assembly:
The tables generally require some assembly, so ensure you know how to set them up from scratch. Fortunately, many manufacturers can provide easy sets of instructions so you can begin playing immediately. Others have set-up and doorstep deliveries where the staff can assemble everything for you. See more about building a table on this site here.
Maintenance Tips: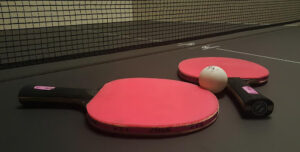 Suppose you're the proud owner of a ping pong table, congratulations! You've made a wise investment in a piece of equipment that will provide hours of fun and exercise for you and your family. But like any other sporting equipment, this furniture will require some maintenance to keep it in top condition. Here are a few tips to help you keep your play area in tip-top shape:
Regular light Cleaning:
The easiest way to maintain the table and ensure it stays durable is to give it a quick clean. Wipe it with a cloth after every use and cover it when you're not using it. Inspect the surface and make sure that there's no dirt build-up. The ones made up of wood should not be drenched with water or harsh chemicals. Just do some cleaning and don't go overboard.
Another thing is that you might want to store the ping pong table in a place that makes it less likely to get disturbed. Cover this to minimize dust, and make sure to get the high-quality ones that don't warp over time. See more about the cleaning when you click here: https://howtosguru.com/how-to-clean-ping-pong-table/.
There are a few factors you'll want to keep in mind when choosing a ping pong table, so consider the table size and make sure it will fit in your intended space. Another thing is to determine whether you're going to play indoors or outdoors and buy one suited for these spaces. Afterwards, you need to maintain and clean it regularly so it won't warp and you can keep a level playing surface. You can browse online today and see which ones are right for you.