Shopping Advice for an Engagement Ring
A couple's commitment to one another is a joyous occasion, and family and friends are invited to join in the celebration. Family and friends gather to congratulate the newlyweds and share their hopes and aspirations for the future at an engagement party. If you are planning an intimate get-together or an extravagant event, the most important thing is to be resourceful. Make sure your event is personal and suited precisely to you and your partner.
The engagement ring is a sign that the wearer is engaged to be married in Western culture. In addition to signifying love and commitment, an engagement ring can also signify the beginning of a lifelong relationship. The presenting of an engagement ring may be part of a formal rite, usually including family and close friends; this is often a symbol of acceptance into the family. If you are looking for an engagement ring, here is some advice.
Create a Budget
Is it necessary to spend four or five months of your earnings on an engagement ring? You may have heard this from other people. You may have also come across engagement ring price guidelines that estimate the cost of a "decent" engagement ring at a very high price point.
In fact, there actually are no rules when it comes to buying an engagement ring, as most of these regulations are just tricks established by diamond dealers. Your budget should instead be based on your financial circumstances and any special wishes of you and your future spouse.
Determine What Shape you Desire
The search for an engagement ring is made much easier if you are aware of your significant other's preferences with regard to diamond shape. Depending on the shape, also known as a cut of the diamond, the price per carat varies.
Pear diamond cuts are less expensive than round ones. Choose a different shape than the traditional round cut if you care about carat weight more than anything else. You should familiarize yourself with ring cuts before buying an engagement ring. Check out the best engagement rings in-store or online.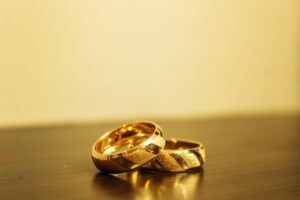 Select a Metal for the Band
Gold, silver, and white gold have long been the metals of choice for engagement rings and wedding bands alike, but rose gold has just surfaced as a hip, new material for these items.It is important to evaluate your budget and lifestyle before making a final decision. Additionally, you will need to decide if the band(s) will feature some gemstones.
Consider the Carat Size
Engagement rings are no different; some individuals prefer a larger stone to a whiter stone, while others desire the clearest diamond, irrespective of the carat count.
Acquire Accurate Measurements
Make sure you and your partner get your ring fingers measured correctly. Avoid rings that restrict your blood flow or are so loose that they could come unloose or injure you. If it is too tight, it is not right. It is possible to get a ring sizing on your own when you visit a jewellery shop and then casually mention it the next time the subject comes up.
Make sure to negotiate when buying an engagement ring.