Different Types of Coverings for Your Bed
Day in and day out, we work hard for the purpose of creating a beautiful life for ourselves and our children. So, after a very tired someday all we need is a great rest. And having a good night's sleep is the best option to calm and relax our minds and bodies. For the purpose of good sleep, a good mattress and a bed frame are not enough.
The way you have arranged your bed and the way you have dressed your bed plays an important role. It may sound irrelevant but get out of your typical way of dressing your bed and then you will feel the difference. So, what a well-dressed bed means is a bed with quality bed sheets and coverings. Which gives out a calming and relaxing environment. Now, we will go through the different types of bed coverings and have a better understanding.
Flat sheets
The flat sheets are the first thing that comes to mind when talking about sheets and covers related to bed. Because it is the first cover over the fitted sheet of the bed. It is considered as the layer that touches the body. So it provides a hygienic feel and also a gap between you and the other bed coverings used for decorations or to provide warmth.
Blankets
A blanket is a bed covering which is thicker than a bedsheet including different kinds of sheets like quilts, duvets, and comforters. It is mostly considered as a sheet used to provide great warmth between a flat sheet and another sheet. The blankets can be draped over the sides of the bed.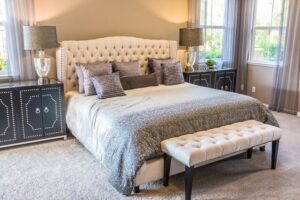 Blanket covers
A blanket covering is a sheet that is used as a decorative covering that is layered over a blanket. This is a lightweight decorative covering that almost looks like a decorative top sheet after being placed. These are mostly used on hotel beds adding more comfort and providing the bed a luxury look.
Duvet covers
A duvet cover is a bedsheet covering used for decorative and protective purposes. These duvet covers in various weights and fillings. The specialty of these types of covers is that they can be used with a flat sheet or on their own as well. The duvet covers reduce the complexity of making up a bed when used without any layers in the middle. They can also be used over a quilt or blanket sheet as an extra layer of warmth.
Quilt covers
A quilt cover consists of three layers, mainly two layers of fabric with one layer stitched together giving out a beautiful decorative design. These quilt covers are made using the same fabric as the fitted sheets and top sheets. So, even these are soft enough to sleep under.
But these are thinner sheets than the duvet covers but thick enough to put over the body providing enough warmth. Quilt covers can be placed over a flat sheet or even over a blanket or under a duvet according to your preference. For example, double bed quilt covers are considered to be one of the best.
These are the main types of bed coverings and there are more types of bed coverings as well like comforters, coverlets,s, and bedspreads. So, you could select the type of bed coverings you need according to your preference of how your bed should feel and look.